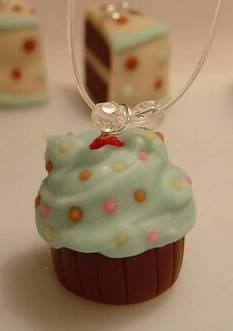 *

I am sooooooo happy I got the cupcake and
lem-o-licious pie (scented!) necklaces I ordered from Pancake Meow today. I'm
wearing the cupcake now. Some might think this is crazy, but now that my diet
is in full swing, smell of delicious cupcake is very comforting. Maybe
should use this to my advantage...for every weight loss goal I reach, I shall
buy another sweet from Pancake Meow. Mmmmmm. Let's see, what's
next? I think definitely a Whipped Cream DELUXE Cupcake.
*
For anyone unfamiliar with this talented gal - check out all of Leslie's scented jewelry @